Pressmate Dampening and Circulation
The perfect partner for your Press
The 'Pressmate' range of Venturi return Circulation Systems is geared towards small and medium sized sheet fed presses and offers cooling solutions from 0.5kW up to 10kW. Incorporating MGE's Dual Layered Composite filter bags and optional Alcohol Control, there is a PressMate unit perfect for the high demands of today's Presses whatever their needs.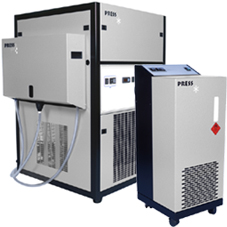 Our Pressmate units are named according to a specific structure and, using the buttons to the left, you can look up your ideal unit by name to retrieve detailed information and specifications. An example of the structure is below.
CS420
CS = Circulation System
4 = Number of Venturi's (dependent on size of press and number of colours)
20 = 2.0 Kw
If you are not sure which MGE unit would be suitable for your requirements, you can look up the correct unit by Press Size.